A self-paced presentation of over 40 slides that discusses the principle of normalization and how to support people with disabilities with respect and dignity in the community. Provides some history, examples of ways people can be subjected to devalued experiences, and discusses the role of support providers. Reviews supporting positive language, appearance, individuality, competency, and self-determination, while discussing overprotection and segregation. Includes examples and exploration.
Credit Hours: 2
Curriculum
Introduction to Normalization
Realities People Face
Status and Accomplishments
Self-Determination
Competencies and Settings
Interactions and Language
Lifestyles
Person-Centered Planning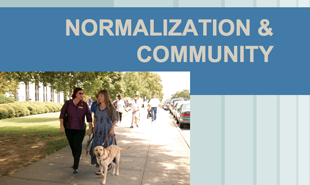 BUY COURSE FOR SOMEONE ELSE:
In the boxes below, add recipient's email, then your email, and then any message you wish to send to the recipient. Click the button at bottom to checkout. We will email instructions to the recipient.