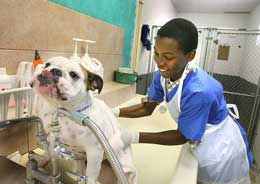 The values of supported employment contradict the values of traditional facility-based programs that focus on readiness training ("train and place"). Studies have shown that most of the individuals in such programs do not ever get jobs, earn on average poor wages, and are perceived primarily by their disability, rather than their strengths. Supported employment focuses on immediate employment and long-term support ("place and train").
What is Your view?
Click here to give your opinion. View the results of this poll so far.
Core Values of Supported Employment
Click on each to learn more.
People receive assistance as unique individuals with varying interests, preferences, and aptitudes. They should not be grouped on the basis of label, functioning level, or convenience of support.
There are sufficient options related to people's interests and desires in life in order to exercise control and autonomy over their life's direction. Choices made are the result of being fully informed through direct personal experience and/or considering information on potential alternatives.
Services are always provided in a dignified, age appropriate, and enhancing way.
People have the opportunity to participate actively in all their chosen pursuits of life.
Individuals are provided opportunities to develop skills of interest and use in their lives by discovering and expressing gifts and capacities.
People have access to diverse individuals in social contexts in order to build friendships, working relationships, and networks of individuals who share interests, settings, or other commonalties.
Services support people in their pursuit of a quality life in natural settings which minimize artificiality or restrictiveness.
Normalization
The concept of normalization recognizes that people who have disabilities are entitled to decide upon options of living that everybody else has in the community. In particular, people should be supported to pursue lifestyles of their choosing that enhance their status.
However, rights do not always become reality. There are numerous obstacles to obtaining a valued lifestyle.
Many people will think of a person with a disability as different in a negative way. Our culture values being productive, skilled, attractive, and affluent. For a number of reasons that have little to do with the people themselves, these attributes are rarely connected to persons with disabilities.
Still, services and attitudes are changing for the better. Part of the reason is a greater awareness of the principles of normalization. We are also learning how to better communicate with and educate the public about the rights of citizens with disabilities. And one of the most powerful ways to change attitudes is for persons to participate successfully in their communities – as good neighbors, good workers, and good friends to those around them.
A big part of our job, then, is to understand how perceptions of persons with disabilities are influenced, and then to support more valued social roles for people. Normalization does not emphasize how
Integration at the Workplace: A Social View of Work
| | |
| --- | --- |
| Working in a store side by side with co-workers without disabilities. | A sheltered workshop where the workers are nearly all disabled. This is not considered an integrated work setting. |

Our culture expects people to be productive, get paid what they are worth, and make their own way. Work is also considered a means for gaining status and self definition and achieving personal goals. People who work use their jobs as a way to describe who they are. This information, along with other social cues, behavior, reputation, and interests, represents the individual. One's job may be tied to various aspects of status, including possessions, prestige, power, control and influence.
The social aspect of our lives tends to be the most important to us. Without relationships with friends, colleagues, family, and others, our lives lose much of their meaning and enjoyment. Social belonging is one of the ways we define the quality in our lives.
Having success in helping people with disabilities develop relationships will depend a great deal on our capacity to connect people in an ever-widening circle of friends, relatives, acquaintances, and others. We need to enhance people's appearance and their competencies and help them obtain good jobs with individual support in community settings.