Conducting a job analysis of a position within a business can be complex. Jobs are a complicated mixture of tasks to be done, problems to be solved, and dealing with equipment, tools, schedules, places and people. This course will help train you to be able to conduct an analysis of the most relevant factors of a job that will be encountered by a new worker. For example, it is important to know at a minimum: what tasks are to be done; what problems to expect; what is the expected performance and related schedules and their timing; what other people will the person be interacting with and how; and whether there are any specific expectations about a task or personal behavior.
Credit Hours: 4
Curriculum
Introduction to Job Analysis
Job Components
Methods of Analysis
Determining Task Flow
Example of a Job Analysis
Reviewing Soft Skills
Safety on the Job Site
Task Efficiency
Task Modifications
Synthesizing Information - Sample Forms
Conclusion: Support Plan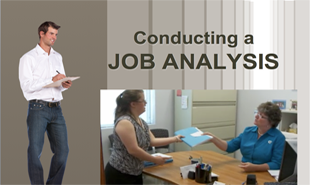 BUY COURSE FOR SOMEONE ELSE:
In the boxes below, add recipient's email, then your email, and then any message you wish to send to the recipient. Click the button at bottom to checkout. We will email instructions to the recipient.