*2 hour certificate. This online presentation provides an excellent orientation to the disability field. Useful with new staff, board, or family members. It reviews the issues with labeling, language, and the various types of disabilities and their associated conditions. Covers developmental landmarks, cerebral palsy, spina bifida, autism, intellectual disabilities, epilepsy, specific learning disabilities, head injuries, mental illness, and vision and hearing challenges. There is also a review of the historic challenges people with disabilities have faced, from institutionalization to the growth of community services and self-determination.
Credit Hours: 2
Curriculum
Problems with Labels
Everyone Has Abilities
Developmental Milestones: Types of Disabilities
Cerebral Palsy
Spina Bifida
Autism
Intellectual Disabilities
Epilepsy
Specific Learning Disabilities
Head Injury
Mental Illness
Hearing, Vision and Other Disabilities
Challenges
Advocacy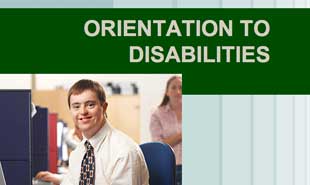 BUY COURSE FOR SOMEONE ELSE:
In the boxes below, add recipient's email, then your email, and then any message you wish to send to the recipient. Click the button at bottom to checkout. We will email instructions to the recipient.