A self-paced presentation that covers the process of planning by and for a person with a disability, with the input his or her family, friends, and professionals. Defines the approach, its underlying values, and discusses facilitation, setting agenda, planning for the future, action steps, and more. Lots of examples, video, and exploration.
Credit Hours: 4
Curriculum
Intro to PCP
Planning Components
What a Plan Looks Like
Planning Video
Learning About the Person
Life Dreams
Deciding What's Important
Employment
A Real Home
Planning Meetings
Getting Help
Self-Determination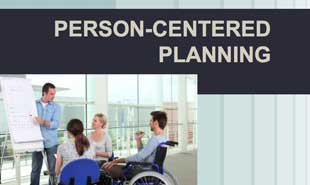 BUY COURSE FOR SOMEONE ELSE:
In the boxes below, add recipient's email, then your email, and then any message you wish to send to the recipient. Click the button at bottom to checkout. We will email instructions to the recipient.