Don't waste time and resources to set up strategies that can lead to inefficient learning or unneeded skills. Knowing
how
to train is important, but so is knowing
what to train, when, and where
. This course will go over the steps needed to understand training priorities so that important, functional life skills – behaviors needed for home, work, school and the community are the focus on skill development. We also carefully consider key elements of instructional design so that the location, trainer, setting, and materials are carefully considered and selected to provide the most effective and efficient result.
Credit Hours: 2
Curriculum
Download Course Log
INTRO TO EFFECTIVE TRAINING
Effective Training 1
Effective Training 2
The Many Elements of Training
Elements of Training
RECOGNIZE INEFFECTIVE TRAINING
Moving on from Ineffective Training
Question Training Goals
Breaking Assumptions
The Golden Training Rule Good Support Equals Success
Avoid the Readiness Trap
WHEN TRAINING IS NEEDED
When Training is Needed
Adding Information
Avoid Dependence
SETTING PRIORITIES
Setting Training Priorities
Impact on Life
Goals
Preferences
Final Thoughts on Priorities
GOAL CONSIDERATIONS
Avoid Rigid Curricula
Flexibility
Functionality
Interaction on Functionality
Time Considerations
REVIEW TEACH, ADAPT OR SUPPORT
Interaction: What Goal
Teach, Adapt or Support
ADAPTATIONS
Adaptation to Task
Adaptation to Setting
Two Approaches
How Adaptations Work
Using Adaptations Effectively
Adaptation Interaction: Difficulty Using a Knife
INSTRUCTIONAL SUPPORT
Instructional Support Types
Support
Considerations
SETTINGS AND INSTRUCTOR
Deciding the Training Setting
Train Where the Skill is Used
Train with Competent Models
Train in Natural Settings
Determining Who Will Train
Staff or Natural Setting
Natural Training
Features of Natural Training
CONCLUSION
Conclusion: Training & Support Plan
Strategies
Needed Skills Should Not Prevent Community Life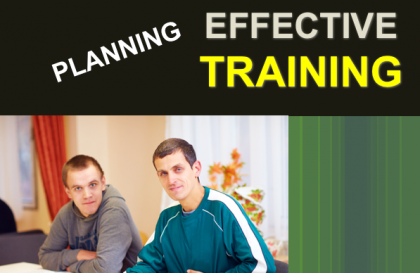 BUY COURSE FOR SOMEONE ELSE:
In the boxes below, add recipient's email, then your email, and then any message you wish to send to the recipient. Click the button at bottom to checkout. We will email instructions to the recipient.